Cambio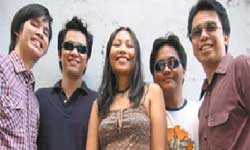 The 90's saw the explosion of rock and alternative music. Everyone was caught unaware by this so-called Eraserheads phenomenon that many could not define. Their music was unclassifiable. They successfully walked the jagged line between mainstream and alternative with a mix of pop, rock, and everything in between - instantly familiar yet totally unheard of. Their songs proved to be a roller-coaster ride of unpredictability and unconventionality as it range from being euphoric to downright hilarious, interspersed with occasional tenderness to wallow in. Simply, they were the loudest noise and the biggest surprise to hit the music industry. It uplifted Original Pilipino Music, giving it a renewed competitive edge.
The original plan was just to finish their outstanding commitment and simply disband. Not for the Eraserheads, it seems. While playing in their supposedly last few gigs, the remaining members Buddy Zabala & Raymund Marasigan realized they still enjoyed playing together and they just can't quit & disband just like that. So instead they have regrouped, innovated & transformed themselves to evolve into a new band. In a slow but definite transition, the so-called infamous Eraserheads has shifted gears and is now known as CAMBIO.
Completing the cast are Kris Dancel, Ebe Dancel & Diego Mapa, all wedged between the guitar & vocal chores. These three young musicians have separately proven their worth and for a time have even made their presence felt in the alternative music scene with their individual band recording debuts. An all-star cast band as it seems, everyone has been individually known to be part of different bands – Kris Dancel as vocalist & guitarist of an all-girl band Fatal Posporos, Ebe Dancel from the newly crowned NU107's New Artist of the Year & Album of the year awardee Sugar Free, Diego Mapa of the rock band Monsterbot, Raymund with the highly regarded band Sandwich and Squid9 & Buddy with indie-rock band Twisted Halo.
With veterans Raymund & Buddy at the bottom of CAMBIO's musical character & direction, now, more than ever, this band is certainly on track and raring to take on the local concert scene. The members said it is their commitment coupled with the sense of fulfillment they get from playing that makes them one happy successful act. Each show, night after night, is a genuine showcase of tight and awe-inspiring performances that leave even the most jaded member in the audience asking for more. Yet each night is a continuing learning experience.
The band independently released an EP aptly titled CAMBIO…excerpt E.P. last October of 2003 containing total 7 original tracks including 2 remix versions of the single "Divisoria."
And by July 2004, a full length debut album under Universal Records entitled Derby Light was released, still with the carrier single "Divisoria". A music video directed by Diego Castillo was also produced for the said single.
What makes them different from the other bands is their individual ability to make their own sound and collectively bring about a music distinctly theirs. CAMBIO is certain to stir ahead and reap their niche in the music scene. There has been no looking back since then. Listen to their music and you will feel a zestful energy around them. Whatever the future holds for these five, for the moment at least, the local crowd can stand to benefit by enjoying the music of CAMBIO.